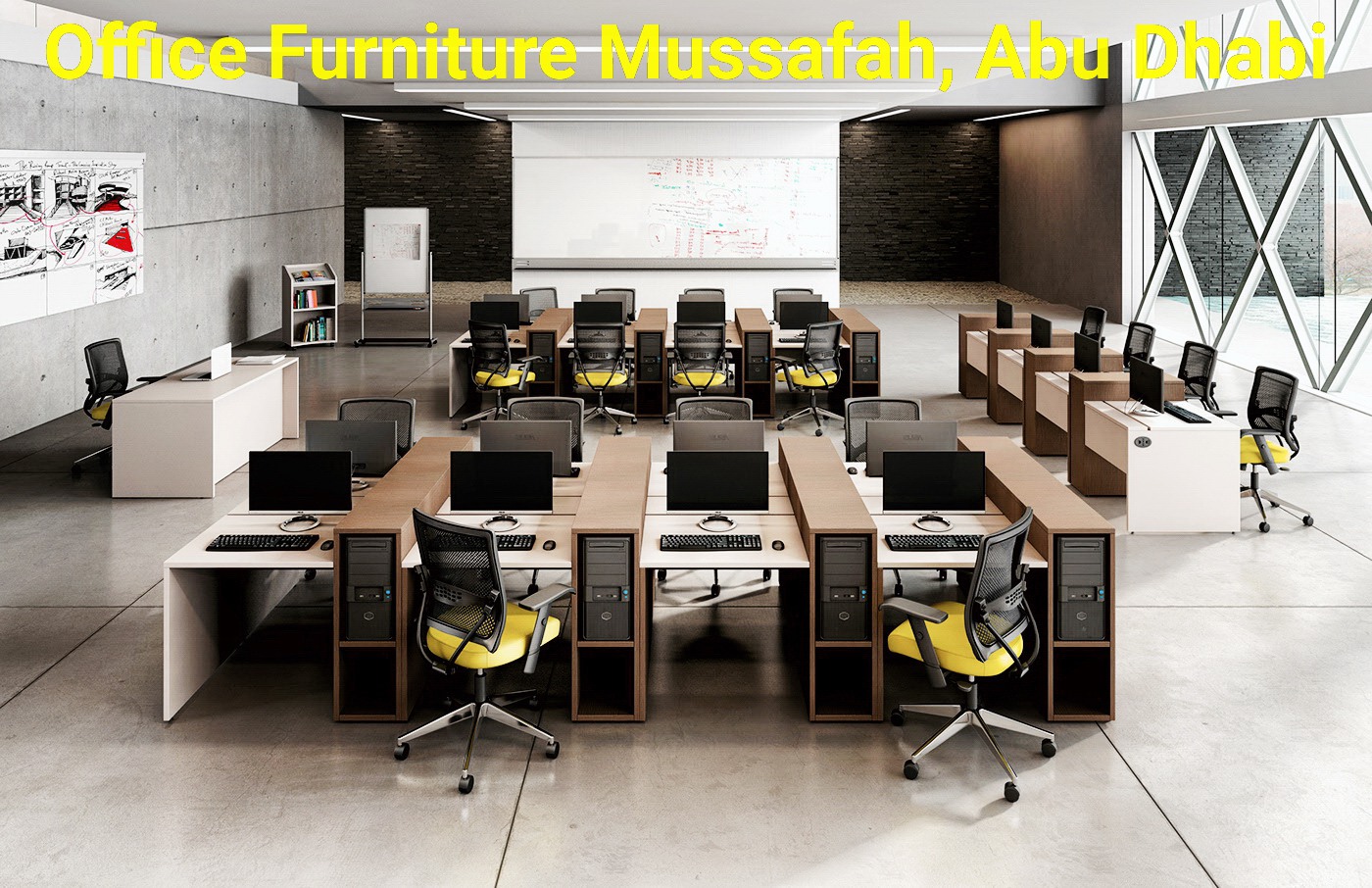 We Design, Manufacture & Supply Office Furniture in Mussafah Abu Dhabi & UAE

Best Office Furniture Mussafah – Abu Dhabi – UAE
We have a distinctive design theme and contribute all styles of high-quality furnished office furniture. We deliver revolutionary designs for office furniture, making our furniture an imaginative office piece of art. Our new office furniture in Mussafah will bring our latest furniture designs and contemporary styles to your office spaces. With our global brand designs, we deliver furnishing furniture that makes the office experience easier.
Mussafah office furniture
Our ultimate luxury Abu Dhabi office furniture Mussafah collections will build your office atmosphere that represents your ideal lifestyle and personality. Our unique Abu Dhabi collections of sleek online office furniture deliver a touch of sophistication to meet your individual needs with creative styles and models. Our diverse ranges of office furniture would be a better match for your employee's needs and ensure that our flexible style choices complement any office room.
The broad range of office furniture – tables, benches, offices, sofas. We have a range of styles and trendy templates to give your interior design the best look. For better help, visit our office furniture store in Abu Dhabi. Our furniture looks fantastic and also gives the working atmosphere a perfect contrast to the surroundings, and it also gives the most popular style to decorate your office. We have a broad variety of office furniture such as desks, tables, workstations, cabinets, and sofas.
Buy top-quality office furniture
We sell state-of-the-art office furniture that includes ergonomic seats, conference tables, L-shaped office desks, executive desks, luxurious armed chairs, bar stools, coffee tables, kitchen furniture, bedroom furniture, desktop tables, office storage cabinets, lab furniture, reference tables, bookshelves, modular sofas, student desks, teacher's desks, etc.
Our new office furniture Mussafah Abu Dhabi offers a variety of furniture and offers modern office desks such as executive desks in a wide range of designs and models such as rectangular desks, L-shaped desks, U-shaped desk,s, and huge desk systems.
Customized high-end modern office furniture.
Our conventional high-end contemporary office furniture provides more modern, ergonomic designs to introduce new, progressive, and make workers popular in the future climate. A broad range of best collections is required for various criteria such as administrators, directors, staff, tourists, etc. Office furniture is one of the most important technical specifications for workers in all workplaces, but it is our main task to make it more imaginative, stylish office furniture that would not create an awkward workplace environment for employees because most of the time spent in the office chair itself is our job to create a convenient environment. With the comfort zone, our best ranges of office furniture offer additional support to the lower back body so the one who sits for long hours without any health problems.
Any office furniture built for a particular function, primarily competitiveness and quality are the two key factors the good office furniture achieves. Office chairs are the most essential need for each office environment because for the comfort level, all chairs needed for sitting purposes. Office table is another important requirement of the offices and comes in special variety for different uses, such as a meeting table, reception table, and others.
Top Office Furniture near Mussafah, Abu Dhabi
SAGTCO office furniture Musaffah would be your most popular maker and provider of all luxurious office furniture sets at Mussafah, Abu Dhabi. We give a final office layout review and show an inviting setting to all our clientele. Together side offering personalized knowledge and services by our pro designers and earnings partners we mean to lessen the physical and psychological stress from providing lavish ranges of office furniture which is likely to force you to feel comfortable and relaxed at each moment; point. We fabricate and provide an assortment of high-quality office furniture that's very snug and durable.
Together with the aid of health, it supplies an appropriate sitting position to get your system thus you could sit for extended hours with no wellness difficulties. We give a lot of selections in office furniture using smart storage alternatives. Our office furniture will help to lessen the physical anxiety which arrives from the inappropriate posture. We give quick installment and completely absolutely totally free shipping and shipping of most of our office furniture all-around in excess of Mussafah, Abu Dhabi, and also the UAE.
Best Office Furniture Company in Mussafah
We've got the most recent layouts and great high-quality office furnishings at affordable prices that supplies one of the optimal/optimally set for the own office at Mussafah, Abu Dhabi. We utilize supreme quality timber providing lasting furniture at Mussafah, Abu Dhabi that may endure for a whole life. Together with this, our office furniture gets got the perfect ergonomics presenting fantastic posture and relaxation to get working air.
This produces a fantastic atmosphere for staff members in addition to website site readers. This enables you to feel more comfortable and relaxed at just about each and every single moment in your office and makes your worker wish to pay additional hours on the job. We give the maximum quality furnishings together using the highest-quality cloths and substances.
Are You Currently Searching For The Best Office Furniture Shop in Mussafah?

SAGTCO furniture for workspace provides the best alternative for the demand also it is the optimal/optimally office furniture producer providing in Mussafah, Abu Dhabi. We're one of the best office furniture in Mussafah and possess a magnificent selection of luxurious office furniture, which creates a warm relaxing surrounding for that traffic coming into any workplace. We've got a vast array of one-of-a-kind patterns to match your inside and ensure it looks desirable. Our supreme quality luxurious office furniture supplies a traditional touch on an office and workspace atmosphere. With a wide array of alternatives we provide for our own customers, we assist you in receiving a workplace that transforms your normal workday into an intimate and effective moment.
Our ergonomic office furniture leads to job efficacy and contributes to the growth of one's own organization. Supplying our finest layouts luxurious office furniture in Mussafah, Abu Dhabi we now offer you office furniture decision that's extremely long-lasting, adaptable, and useable within a number of alternatives. For practically any office furniture demand make it in a different contour, size, or color, and we might assist you to totally completely change your working environment space with no massive expenditure decision. Luxurious office furniture out of SAGTCO from Mussafah, Abu Dhabi provides a tasteful and fashionable appearance for your own offices in manageable finance.
Office Furniture Abu Dhabi
We also cover the whole of Abu Dhabi and supply office furniture to new businesses as well as existing companies. SAGTCO office furniture Abu Dhabi has one of the highest amounts of satisfied professional-clientele among the office furniture suppliers. These include clients from the public and private sector, from corniche to the outskirts of Abu Dhabi in Musaffah ICAD, to Masdar City – All believe SAGTCO Office Furniture is the best office furniture company in Abu Dhabi. 
"SAGTCO IS THE EPITOME OF THE FINEST BUSINESS FURNITURE COMPANY IN ABU DHABI, UAE"

Office Furniture Catalogs