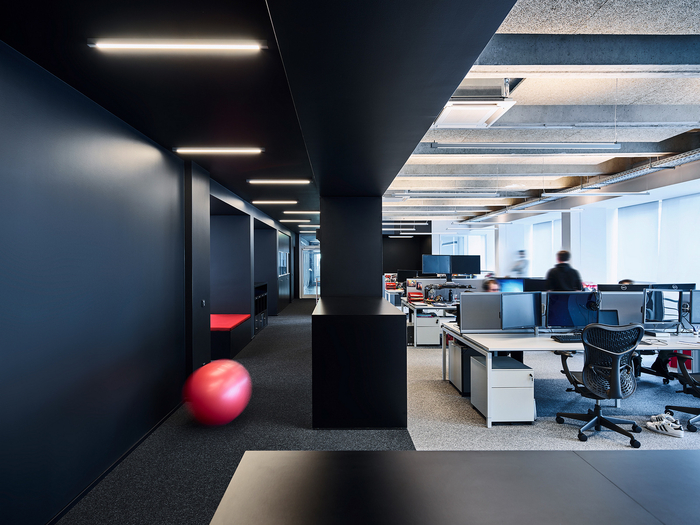 de Winder Architekten has developed a new office environment for an American Video Game company located in Berlin, Germany.
An up-scale office space for 50 employees was created in a new building in Berlin's Adlershof district for the German offices of an American video game and esports company. To implement an open, modern work environment, the classical spatial subdivision of individual offices with corridors was deconstructed. Open Space areas with combined meeting rooms, a Players' Lounge and an Auditorium are now spread around the 900 square metre area.

The new office area is graphically defined by a distinctive bright/dark contrast. The corridor, with its black finishes and suspended ceiling, form the spine that connects all of the office's utilisation units. It serves as a walking zone while housing special functions such as the red-upholstered phone booths, informal meeting areas and the service point. Staggered linear lamps that make reference to the position of workplace lighting to the left and right emphasise the escape of the central zone.

The intentionally simple Open Spaces on both sides of the dark corridor, extend all the way to daylight flooding through the building facades. Here, the significant design elements are the visible ceiling structure with a view of exposed building services, acoustically effective surfaces and a linear lighting grid. The meeting rooms were assigned to individual team areas and given glass wall designs with life-sized video game motifs. The kitchen attached to the office area serves as a community space, provided both openness and withdrawal.

The Players' Lounge and Auditorium form a spatially coherent unit. Using a glass wall with a heavy curtain, this area was designed so both spaces could be used separately, but also allow visual interaction when necessary. The Players' Lounge, with its computer cabins, provides space for two teams to compete against each other virtually on the "Map". The adjacent Auditorium serves as a workshop space and, thanks to the installation of a multimedia system, row seating and lounge furniture, allows different types of use.
Design: de Winder Architekten
Photography: Mark Seelen
The post American Video Game Company Offices – Berlin appeared first on Office Snapshots.


Source: OfficeSnapsShos – American Video Game Company Offices – Berlin
All content belongs to respective owners!