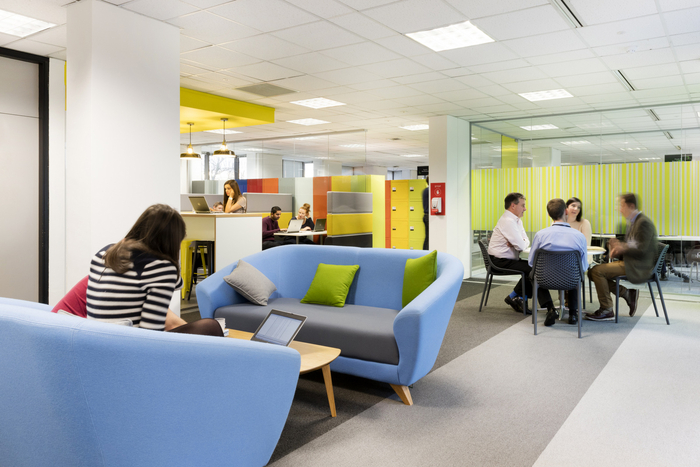 Peldon Rose has designed the new offices of consumer research firm Kantar Worldpanel located in London.
Kantar Worldpanel are a leading consumer research company based in London Westgate in Hanger Lane, which is home to over 450 staff. Peldon Rose were challenged to create a work space that focused on new ways of working.

To achieve these dedicated agile working areas, we created a wide range of working environments through an intelligent use of furniture. The office design is filled with many different types of furniture to help them feel comfortable at work. Personal storage lockers and hot-desking were also introduced to the office so that space was maximised and staff had a more dynamic office environment to work in.

The in-house furniture team made these inclusions to break up the work space and give staff the opportunity to work away from their desks. Kantar Worldpanel employees can now select from wooden bleachers, acoustic pods, beanbags or even a hammock as their new desks.

Simple changes were made to transform the office into a more open and trusting office. These agile working areas reduced their wasted desk space by 40%. Combined with replacing all solid partitions with glass, the new office is a bright and engaging work space.
Design: Peldon Rose
Photography: Matthew Beedle
The post Kantar Worldpanel Offices – London appeared first on Office Snapshots.


Source: OfficeSnapsShos – Kantar Worldpanel Offices – London
All content belongs to respective owners!